Why you need CCTV
Why you need CCTV, there are several explanations for this. Benn Lock & Safe Ltd is undoubtedly one of the most well-known businesses in Peterborough. We have skilled, trained, experienced, and licensed professionals to install security cameras. Therefore you may select us without hesitation.
We have modern installation equipment and, above all, we strive to satisfy our clients' expectations. And we can provide you with the finest value for money. We provide free consultations and estimates. As a result, you may contact us at any moment to discuss your requirements. Please contact us at (01733) 55 27 28.
We offer cabling and hardware installation services for all areas of security and access control systems. We are the leading CCTV installers in Peterborough, Stamford, and Huntingdon, which are all within 45 miles of PE1.
Video surveillance, door access control, and gate security are all included. Security systems are critical for protecting property and assets in a commercial setting.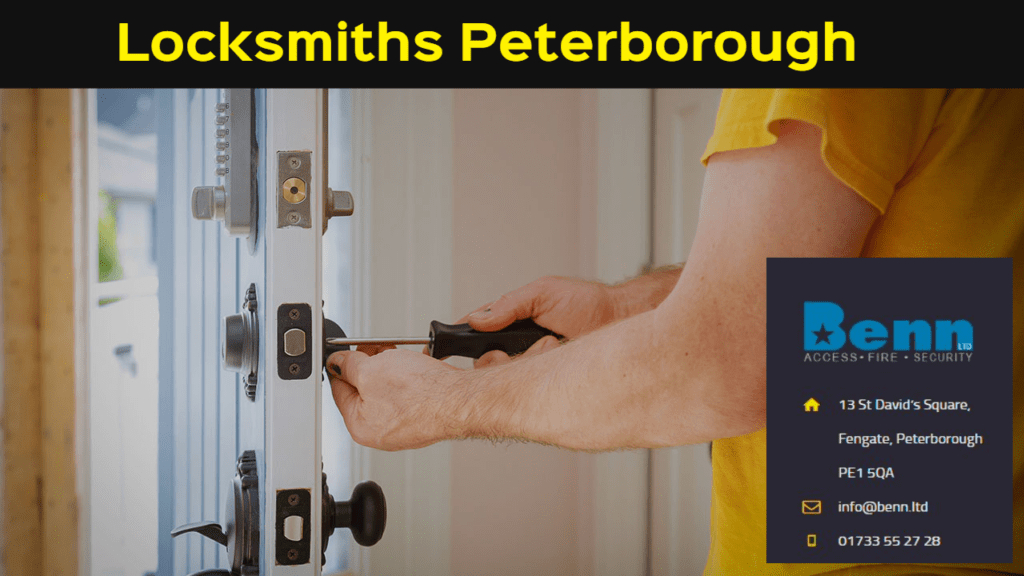 Contact us immediately at (01733) 55 27 28 to schedule a free home or workplace security audit with one of our CCTV experts. Our representative will arrange to see you at your location to discuss your needs and pricing and plan the new update to your system to provide broadcast-quality images. Book right now.
Benn Lock and Safe Ltd is dedicated to providing cutting-edge security technology solutions for government institutions, communities, and enterprises. We will assist you in designing and implementing the best security system for your needs, from security cameras to access control and beyond.
But what distinguishes us the most is our dedication to offering our clients the best degree of customer service and becoming a partner on whom they can always rely.
Have you acquired your own CCTV system and want assistance with its installation? We can install and setup customer-supplied equipment such as Swann, Nest, Ring, Neos, Ezviz, and many more. For a price, please phone (01733) 55 27 28 and let us know what you need help with.
Why you need CCTV
To provide full property coverage, most people require at least 4 cameras. This will give you a camera of each side and is a good starting point.
Do I need CCTV for my house/business property?
CCTV provides a visual deterrent to a potential burglar. This generally stops the burglary from taking place in the first place. If the worst happens, you'll have a high-resolution footage to review and send to police and insurance.
Local, Professional Security Installation and repair from Benn Lock and Safe Ltd
When it comes to ensuring the protection of life and property in your home or workplace, one of the first things to get is a security system (IP camera, CCTV system) from Benn Lock and Safe Ltd.
You may view intruders and unauthorized people in your house, workplace, and/or commercial property by installing our security camera installation service and a video surveillance system.
Choose Benn Lock and Safe Ltd security camera installation professionals to provide customized electronic security solutions. Benn Lock and Safe Ltd security cameras provide the best CCTV installation and servicing in Peterborough.
We provide outstanding services at reasonable pricing to all sorts of business buildings and home surveillance. We are a team of highly experienced and qualified specialists that do their jobs in the most professional and efficient manner possible.
New system design and installation – we take the time to understand the needs of our customers to develop the optimal system for them. We may create solutions for you to install yourself or we can work with a professional installer to handle everything for you. Existing system troubleshooting and upgrading – Benn Lock and Safe Ltd will assist you with updating an existing security camera system.
Why you need CCTV
If you avoid DIY security camera types, it is better to research local security camera installation business Benn Lock and Secure Ltd to carry out the installation procedure, as well as the CCTV camera installation price they may charge you.
As previously said, the cost of home video surveillance security camera installation is determined by the number of cameras, the quality of central monitoring and processing, preparation and special needs, labor rate, and so on. The average cost of installing such commercial and home security cameras is around £1,511.
Why you need CCTV
Security cameras are a visible deterrent to crime. Criminals will reconsider breaking and entering if your home is equipped with cameras. Video surveillance also protects your house from repeated damage and false claims.
To keep your home safe, install a new security camera system or upgrade your old equipment. Then, locate a local surveillance camera installation provider that is familiar with the region. They can propose security tools that are appropriate for your situation.
They are also current on crime patterns and local risks. Seek skilled security camera installation providers that will evaluate the outside and inside of your property for blind spots. Connect your cameras with data storage to make it easier to retrieve the footage. Further security elements, such as motion sensors or lights, should be provided or recommended.
Benn Lock and Safe Ltd. welcome you. We are a full-service CCTV security camera installation business in Peterborough, providing high-quality security and surveillance services as far away as 45 miles from PE1.
We install professional security cameras and service CCTV security camera systems. Door access control systems, cabling structures, entrance phones/intercom systems, off-site monitoring services, and CCTV camera installation and repair are among the services we provide.
Benn Lock and Safe Ltd have skilled and professional employees that can help you with inexpensive home security cameras, commercial security cameras, and video surveillance installation services for homeowners, business owners, and property owners. With over a decade of experience and hundreds of homes served.
#bennlockandsafe #locksmithspeterborough #whyyouneedcctv
#BennLockandSafeLtd #WhyyouneedCCTV #Call01733 55 27 28 #CCTVsecuritycamerasystems
The post Why you need CCTV first appeared on The Marketing Tutor.
The post Why You Need CCTV appeared first on https://gqcentral.co.uk