Power Clean Patios and Driveways.
Patios and driveways should be power cleaned. House Wash PA provides a competent, courteous, and dependable service to repair and revive the outside of your house. For almost 30 years, our skilled staff has been cleaning and repairing external surfaces with specialized pressure washing equipment and ecologically and pet-friendly cleaning chemicals.
We can help you get your pavers, patios, paths, and decking looking like new again, whether you're planning to sell your home or just need a good clean. We're experienced to working with the most difficult surfaces and only use antibacterial and antifungal cleaning chemicals of the highest quality. Call House Wash PA at 484-881-2713 immediately if you need a thorough chemical cleaning or a gentle basic cleaning.
Certain jobs need a bit more power than our low-pressure gentle wash system can provide. Our high-pressure cleaning technology can bring years of filth and traffic stains on concrete driveways and patios back to life. House Wash PA is ideal for cleaning big surfaces like concrete driveways or patios.
It covers a huge area and produces a highly uniform clean that is impossible to avoid with a standard wash nozzle. The blast pressure of our pressure washer pump may also be adjusted. Our skilled technicians ensure that the water pressure is kept as low as possible to remove stubborn dirt and stains without harming the surface of the concrete or masonry.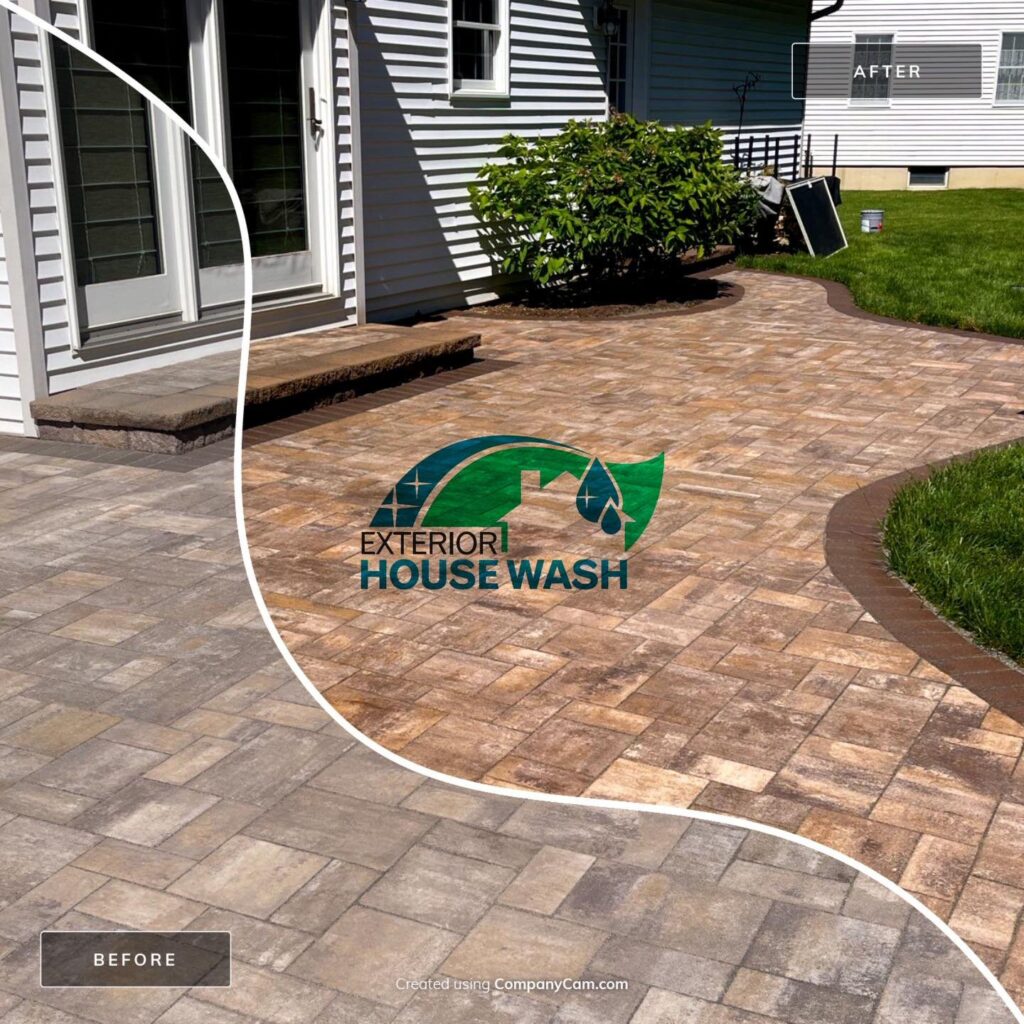 Power Clean Patios and Driveways using the power of the water jet to remove dirt and stains from the surface.
The power of pressurized water is used to remove impurities from hard exterior surfaces such as pathways, driveways, and patios. Many outdoor surfaces appear hard yet require milder care. Gentle washing is a non-abrasive alternative to pressure washing that is commonly used to clean shingles, privacy fences, and other surfaces that might be harmed by pressure washing.
A concentrated, biodegradable cleaning solution is applied to the most sensitive surfaces before being washed gently with a spray of pure water. Your House Wash PA, West Chester pressure washing specialist will explain the pressure settings and applications that are best for your outdoor cleaning needs. Discover more. Call House Wash PA now at 484-881-2713!
Many homeowners' decks, patio boards, and driveways develop dirt, mold, mildew, and other filth due to the ever-changing weather conditions. Melting snow in the winter can turn to soil and discolor gardens or roadways. As a result, it is critical to clean these parts of your home carefully.
Regular pressure washing not only cleans your home's exterior but may also improve its overall curb appeal. Furthermore, you can be sure that dirt and mold will not build, extending the life of your patio, yard, and driveway. What could be more appealing than a spotless exterior? It improves the appearance of your property and eliminates the possibility of unexpected guests.
House Wash PA, located in West Chester, Pennsylvania, provides more than pressure washing. We offer full exterior cleaning services, utilizing only high-quality equipment and the most secure low-pressure washing procedures.
You can rely on House Wash PA to clean your home safely and effectively without causing harm to your property, whether using high-pressure or harsh chemicals. Pressure washing is a fantastic solution.
Pressure washers clean surfaces with forceful high-pressure water jets, but they also utilize hot water rather than cold. Soft washing is another cleaning method that employs ecologically friendly chemicals and low-pressure water.
Hot water pressure washing effectively eliminates dirt, salt, mold, mildew, grime, fungus, and mildew from external surfaces. It also eliminates gum and oil stains from roads and is relatively inexpensive. Because of the extreme temperature and pressure, it may even destroy weeds.
With West Chester's ever-changing weather, many homes' patios, decks, and driveways gather dirt, mold, and other detritus. Melting snow in our winters can turn to slush and clutter gardens or roadways. As a result, it is critical to clean these parts of your home carefully.
Regular pressure washing not only cleans your home's exterior but may also improve its overall curb appeal. Furthermore, you can be certain that dirt and mold will not build, extending the life of your patio, yard, and driveway. What could be better than a spotless exterior? It improves the appearance of your property and eliminates the possibility of unexpected guests.
It's important to clean everything on your patio, yard, and driveway.
Cleaning the entire outside space at least once a year is essential. Even though winter brings some rough soil, there are specific locations that can wait until the weather cools down in the fall. These places are less sensitive and can withstand the effects of cold for a more extended period of time.
Driveways, patios, porches, and other stone spaces are examples of these locations. It is nevertheless necessary to wash these regions on a regular basis. Despite being tougher surfaces, keeping stone and concrete clean may help them endure much longer. Another reason to put off cleaning these spaces until later in the season is that summer activities leave sticky beverages and food residue on patios and decks. Cleaning these items before winter arrives is an excellent method to keep your patios and decks clean and ready for winter weather.
The benefits of gently cleaning your home.
Professional house cleaning is an excellent method to maintain the state of your property, but many people believe that this approach always refers to pressure washing. However, gentle cleaning provides several advantages without the danger of harm. Call House Wash PA now at 484-881-2713 for more information!
When you employ a house cleaning service from House Wash PA, you will receive several incredible benefits, such as safe cleaning: We do not utilize traditional pressure cleaning methods when doing house cleaning services. High-pressure water can cause harm to your property and its surroundings. Your surfaces will remain intact and shine after using our low-pressure washing solutions, often known as gentle washing. Long-lasting radiance.
When compared to regular pressure washing, our house cleaning service leaves your home's outside surfaces cleaner for longer. After we've completed working on your house, you'll find that your surfaces are two to three times cleaner than they were before. This is because our house cleaning method eliminates mold and mildew at their source, guaranteeing they are gone for good.
If you live in West Chester, you're no stranger to our varied climate. When spring and summer arrive, they bring a lot of moisture, which causes algae to grow. The pace of algae development can be affected by where your home is located, how much sunshine it receives if you live in an elevated place, and other factors. One of the major benefits of the software method is that it not only eliminates algae but also disinfects and rids the coating of it, something regular pressure washing cannot do. As a result, you should only wash your house once a year.
What is gentle washing?
Gentle washing is a novel pressure washing technique that necessitates the use of a combination of germ killers and detergents to do the task properly. Gentle washing employs low pressure to kill bacteria while causing little harm to surfaces. Your garden will appear revitalized! Any algae in your yard will be gone in no time, and the process takes even less time than high-pressure cleaning. In general, mild patio cleaning yields the greatest results, the quickest treatment, the least amount of harm, and the longest-lasting impact.
House Wash PA may assist you. Our house cleaning service in West Chester, Pennsylvania, employs a low-pressure method. High pressure has its applications, but it should not be used on sensitive vinyl siding, windows, doors, or blinds. Our gentle cleaner/disinfectant dissolves impurities in the house, allowing us to gently rinse them away. We also provide extra services that complement our West Chester, Pennsylvania, specialists' house cleaning services, such as hand washing basement walkways, sidewalks, and gutters to lighten the black lines or tiger stripes of gutters.
High-pressure washing is a cleaning technique that uses a high-pressure water jet to remove dirt, dust, grime, and stains from surfaces. House Wash PA employs three distinct ways of pressure cleaning: Pressure washing is the process of cleaning surfaces using a high-pressure hot water jet. Pressure cleaning: Using cold water, this procedure is less harsh than a pressure cleaning. It is an excellent choice for tiny objects and surfaces. Gentle cleaning – instead of high-pressure jets, gentle washing cleans more sensitive surfaces with a soap solution.
Even with extreme caution and the lowest pressure, not all products are acceptable for pressure washing, especially if they are already worn. While most automotive paint can survive a strong spray, a thin coating of the clear coat or a damaged exterior should be washed with modest water pressure.
High-pressure cleaning of your house is an excellent method to get ready for spring. It may also serve as the initial step in preparing your home for sale or maintaining its optimum condition.
Professional driveway and patio pressure washing service,
House Wash PA offers high-quality pressure washing services to residents of West Chester. Although I typically work on driveways and patios, if requested, we may also work on porches, siding, or brick walls. If you are interested, please contact House Wash PA at 484-881-2713 right now!
House Wash PA is a West Chester, Pennsylvania-based mobile pressure washing and concrete cleaning business. We are local, dependable, fast, and reasonable. Why should you go with House Wash PA? We can clean whatever surface you desire for roughly the same price as a big-box store pressure washer rental.
By doing it yourself, we can save you time, money, and trouble while offering far superior outcomes. We clean with a hot water pressure washing technique and eco-friendly cleaning solutions.
The post Power Clean Patios. first appeared on The Marketing Tutor.
The post Power Clean Patios. appeared first on https://gqcentral.co.uk