How Do I Relocate From The United Kingdom To Spain
How Do I Relocate From The United Kingdom To Spain: The transition phase for Brexit officially ended on December 31, 2020.
Citizens of the United Kingdom no longer have free movement within the European Union.
British people who want to live in an EU nation must apply for a visa.
Spain's attractiveness is understandable, given its calm lifestyle, low cost of living, and 300 days of sunlight per year on the Mediterranean coast.
With over 350,000 officially registered British nationals, Spain is the most famous European country for British ex-pats (however, it is estimated that up to one million Brits live in Spain).
Is a visa required to move to Spain?
The United Kingdom will be classified as a "third country" on January 1, 2021.
Anyone from the United Kingdom who plans to permanently reside in Spain (or visit for longer than three months) must obtain a visado nacionale (long-term visa).
This also applies to persons with a secondary residence in Spain but no legal status.
The following are the main visas/residence permits:
Work and residency visas.
Students' Visado This is a student visa valid for a recognised educational or training programme.
Residence permit. This is a family reunification or retirement visa.
A British citizen has the following options for entering Spain:
As a salaried employee of a Spanish firm.
As a self-employed individual earning at least £2,000 each month
As a college student,
After retirement
After Brexit, I'm going to work in Spain.
You can still move to Spain if you wish to get a job with a Spanish firm or start your own business there.
You make money by working for a Spanish corporation.
You have at least 2,000 pounds credited to your bank account each month.
If you work for a Spanish company, they must process your visa application on your behalf.
You must demonstrate that you have an extra 500 pounds per month for each family member.
A family of five, for example, would require an annual salary of £48,000 to live in Spain.
What are the various Spanish work visas?
The Visado de Trabajo y residencia category includes several different work visas.
After submitting an application, you will receive a copy that has been stamped and assigned a file number.
Standard work visa applications in Spain might take up to eight months to process.
Other work visas available in Spain include:
Visa for Seasonal Workers This visa is valid for the employment contract term.
Au-pair visas are available. You must be between 18 and 30, have an au pair contract with the host family and be able to support yourself. The visa is extendable.
How may I relocate to Spain as a self-employed individual?
Moving to Spain as a self-employed person is conceivable by registering as an "Autonomo" or as your own limited liability company.
In Spain, about three million people are currently registered as self-employed.
Certain documents and information must be provided when applying for the permit.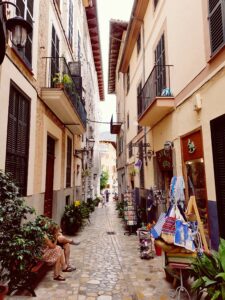 These could include:
Evidence that you have enough money to invest in your firm or support yourself.
A business strategy (if applicable)
Evidence showing you have the requisite abilities and expertise to do the job
Any commercial contracts and orders
How do I get started as a self-employed person?
As previously stated, you must earn at least £24,000 annually to qualify for self-employment in Spain.
As a lone proprietor, you bear personal obligation for your firm as an Autonomo.
You must use the Spanish personal income tax system as an Autonomo.
Establishment of a limited liability company
You can also start a limited liability business. There are various options for forming a limited liability business.
The Sociedad Limitada is the most prevalent type.
You are not personally liable as a limited liability business.
However, you must pay additional taxes and handle accounting and other responsibilities.
How to Become a Self-Employed Person
To begin, you must register your business with the Impuesto Sobre Actividades economics (Economic Activities Tax).
To register for tax purposes, you must also be registered as a freelancer (autonomo professional) or a sole owner (empresario individual).
After completing Modelo 036 or 037 (declaracion censal), you will be given a personal tax certificate (Impuesto sobre la Renta de las Personas Fiscas or IRPF).
Autonomous must register with the Spanish Social Security System under the Autonomous Workers Special Regimen (Regimen Especial de Trabajadores Autonomous).
You may be asked to submit the following information at your appointment:
Application form completed
Passport photocopy NIE number IRPF form
Modelo 036/037 model pages
When may I apply for a Spanish permanent residency permit?
The only exemption is if you are Jewish or of Sephardic descent.
Even before Brexit, many British expatriates in Spain preferred to apply just for permanent residency in Spain, retaining their British citizenship in addition to their Spanish residency.
The post How Do I Relocate From The United Kingdom To Spain appeared first on https://gqcentral.co.uk