How can up to 150% more energy be stored in 27% less space?
In this day and age of soaring electricity bills, it is vital to store more energy from all accessible heat sources, including renewables, to fully utilise their potential and, ultimately, minimise the property's operational expenses.
A home energy storage system allows you to capture and store heat or power when it is readily available, such as from a renewable energy source. The most common types of energy storage systems are electric batteries, heat batteries, and thermal storage.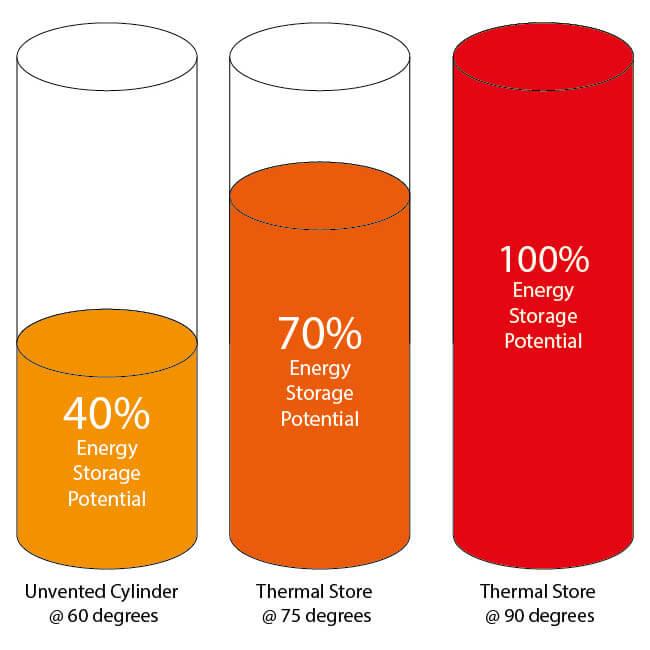 A standard hot water cylinder, whether vented or unvented, heats the stored water to a maximum temperature of 60 degrees. This amounts to 6.99kW of stored energy in a 300-litre cylinder in terms of energy.
A basic hot water thermal store, such as our MULTIflow, can raise this temperature to 75°F, increasing the energy storage capacity to 12.24kW, a 75% increase over its vented or unvented counterpart.

Use a hot water thermal store that allows the temperature to reach 90 degrees, such as an ELECTRAflow or ELECTRAstore, where heat batteries that integrate phase change material are limited to 75 degrees depending on grade. Storage capacity is increased by 150% over the unvented equivalent, with the store holding 17.48kW of energy. Furthermore, phase transition materials require a high-temperature input to melt, whereas thermal storage can use low-grade heat as low as 40 degrees.
One of the limitations of employing hot water cylinders for energy storage is the restricted space available within the property to keep the unit. This is viewed as a problem, especially in a retrofit installation or an apartment with limited space.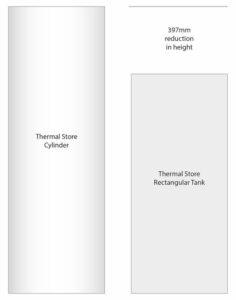 Juli A 150L cylindrical thermal store with an integrated F&E tank, for example, stands 1700mm tall, whereas an equivalent capacity rectangular thermal store with an integrated F&E tank stands just 1303mm tall, saving 400mm and 24% in height.
As you can see, where the installer demands a reduction in unit size, it does not have to imply a reduction in energy storage or performance.
Because of the unique design flexibility of our thermal storage, whether cylinders or rectangular tanks, our solution will meet any installation requirement.
Considering all of this, the thermal store's unique capacity to catch energy as it is made, store it until it is needed, and then transform the heat into heating and hot water on demand, with easier installation, makes it the best choice for both installers and homeowners.
The Hot Water Association also stated on social media that a simple household hot water cylinder can function as a thermal home #battery, storing excess energy in the form of hot water and assisting the grid at times of low demand and high input; view their full analysis here.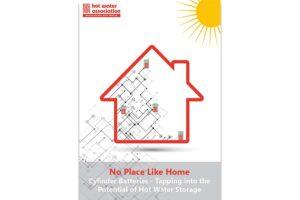 Our new MULTIflow thermal store line is specifically developed for the contract market, offering a high-performance, mains pressure hot water solution with numerous advantages.
Our thermal store technique is adaptable to a variety of installation scenarios, including electric, boiler, or central plant inputs to meet hot water demand. With our one-of-a-kind design and manufacturing solution, we can offer significant cost reductions during installation and continuous operating costs.
Mcdonald Water Storage Company
McDonald Water Storage is a leading manufacturer of hot water systems in the United Kingdom, with an unrivalled reputation for quality and service. As a privately owned, independent hot water tank manufacturer, we are committed to offering a flexible service customised to the needs of the current economic environment.
This is demonstrated by our wide product portfolio and ability to modify any cylinder to your exact needs, whether it's a one-off bespoke cylinder or a large contract that might benefit from custom diameters or connectors for ease of installation.
Our expertise in developing and manufacturing hot water cylinders for renewable energy sources is unrivalled, and architects, engineers, specifiers, and installers frequently rely on us to produce the most effective and efficient cylinder.
While copper continues to be our preferred material due to its superior heat transmission, environmental benefits, and antibacterial properties, we also offer stainless steel unvented cylinders for applications with constrained budgets.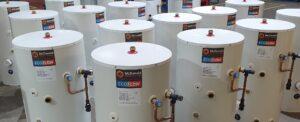 Quality remains central to all of our operations, from the materials we use to the systems and procedures we employ. We have a quality system that is compliant with BSEN ISO 9002. WRC (Water Research Council) certification is also available for the STEELflow and POWERflow unvented system lines.
When World War II broke out, the company began producing aircraft wings, and it would be peacetime before it returned to plumbing, producing copper cylinders and whole plumbing systems mainly for Australia and the Middle East.
McDonald Water Storage saw itself expanding inside the copper cylinder industry while the markets for entire systems shrank.
McDonald Water Storage is proud of its independence; it is one of the few remaining British independent producers in the plumbing and heating business.
The post How can you store more energy, up to 150%, in 27% less space? appeared first on https://richcitations.org
The post How can you store more energy, up to 150%, in 27% less space? appeared first on https://wookicentral.com
The post How can you store more energy, up to 150%, in 27% less space? appeared first on https://gqcentral.co.uk